Palliative Care and Hospice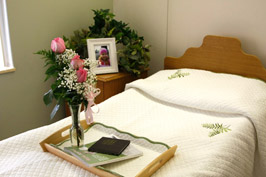 Palliative care provides symptom management along with guest and family support when cure-oriented treatment is no longer possible or desired. Within a palliative plan of care, emphasis is placed on guest comfort and emotional well-being.
Palliative care may be delivered as part of a
short-term stay following a hospitalization or may be delivered on an extended stay basis.
Our new hospice suites allow for family members to stay comfortably with their loved one during end of life care.
If an extended stay guest is receiving palliative care for a terminal illness, they may elect to enroll in a Medicare certified hospice program and receive additional services from a local hospice provider during their stay at The Laurels of Carson City.
A list of local hospice organizations that provide services to guests is available at the facility.