The Laurels of Carson City - A Skilled Nursing & Rehabilitation Center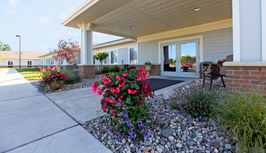 The Laurels of Carson City is a state-of-the-art skilled nursing and rehabilitation center, where our guests and residents experience happier lives because they are able to make more choices and decisions regarding their own care and lifestyle. We offer live entertainment and staff members frequently schedule community outings. Our library is filled with current and popular novels, newspapers, magazines, and movies which are available daily. Our recreation center provides crafts, games, and holiday celebration. Religious services for all denominations are also provided.
At our facility, we deliver a variety of short-term and long-term nursing and rehabilitation services individually tailored to the needs of each guest or resident. The Laurels of Carson City utilizes an interdisciplinary team of experienced clinicians to achieve specific patient outcomes. This team meets upon a patient's admission and then at least bi-weekly thereafter to assess, plan and review patient goals, treatment and progress. A licensed therapist or registered nurse case manages medically complex patients throughout their stay. We have found that an interdisciplinary team approach, involving the physician, nurse, therapist, dietitian and social worker to address the medically complex population with multiple problems, results in the most positive outcomes.
What we're known for above all is the environment we create for our guests. We believe quality caring is pinned on treating each guest as a family member, with the utmost dignity, respect and compassion. It's what we call The Laurel Way of Caring, and it comes from our hearts.